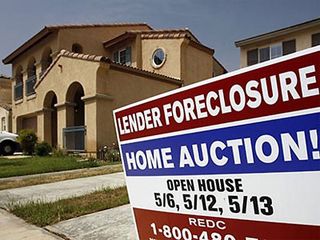 According to First American CoreLogic, Inc., 9.5% of California mortgages in May were in default, up sharply from 5.8% in May 2008.  This will ultimately result in more foreclosures, short sales and bank owned properties coming on the market, assuming the Obama Administration allows market forces to work efficiently without the influence of moratoriums or other government pressures.
With the increase in NOD's (Notice of Defaults) and the banks holding back many REO properties from the market, the only place for these properties to go is on the books of the banks in sort of quarantine bay for sick homes to be nursed to health and released back into the wild once they are strong enough to survive.  But we all know that the banks are not in the business of managing properties for long periods of time and growing them to be profitable.  So the question is: What will happen to these properties?
One option is that the banks hold them until the market stabilizes enough to where they can start to steadily unload them onto the market without driving down prices.  When looking at the median home prices in Los Angeles, you might think that some stabilization is taking place on the lower-end, but as Peter Hong points out in his story in the LA Times this morning, the median is rising due mainly to lower priced sales happening on the higher-end of the market.
Although prices have firmed at the low end of the market, they are still falling in affluent communities, the home sales data released by MDA DataQuick on Wednesday show.
The high-end market did not suffer the rapid shock of subprime mortgage defaults and foreclosures that hammered the housing market's lower end. Sales stagnated as wealthier sellers held out for higher prices.
Now, however, some sellers "are realizing the market's not going to just
bounce back" and are starting to sell homes for less than they had
recently hoped to get, said T.J. Culbertson(former CEO of SHORTsense), a Beverly Hills real estate broker.
That has drawn buyers to the leafy suburbs, looking for deals.
The bottom line is that with record NODs being filed and banks holding properties back from the market, supply is still going to be outweighing demand for the foreseeable future.  Investors that are blindly putting in multiple offers on bank owned properties and luxury short sales may find themselves slightly underwater a year from now, so do your due diligence and be prepared to stick it out for a few years before seeing any return on investment.