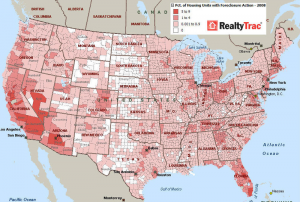 Cyrus Sanati wrote an article in The New York Times Deal Book this morning that some on Wall Street that are suggesting that TARP is masking some serious financial problems within some of the country's largest banks.  Daniel Alpert of Westwood Capital is quoted in the article:
The big concern for Mr. Alpert is that the banks are not being realistic in their valuation of those whole loans, and that all the government cash is masking the banks' vulnerability to deteriorating loan values.
"The capital provided by the government through TARP, etc. has
allowed the banks to continue holding deteriorated assets at values far in excess of their true market value," Mr. Alpert said in his note.  Later, he added: "It is unrealistic to believe that home or commercial real estate values are destined to recover any meaningful portion of bubble-era pricing."
Consider the example of a person who bought a house in Phoenix in 2007 with a $400,000 mortgage from a bank. By 2009, the market value of the home may have fallen to $200,000. Instead of repaying a mortgage worth twice the house, the homeowner defaults on the loan and mails the keys back to the bank.
Up until the point the bank forecloses on the house, the bank can
carry that whole loan on its books at $400,000. When the bank finally sells the house for, say, $180,000, then it will record the loss.
The net effect of the TARP money is that banks are holding back properties that would normally be on the market, either as a short sale or a foreclosure, were it not for the government trying to "fix" the problem.  Honestly, if you were a board member of one of these banks with a multi-billion dollar market cap it would seem logical to think that the share price will stay higher if you can just hold on to these loans until the market stabilizes or the Treasury buys the toxic assets from you at a higher value.  You would not want to take the write down at this point since you have the TARP money to cover up the real value of these loans.
Let's let the market decide the fate of these banks, not the bureaucrats in Washington.